Blog
Blog entry

World Freerice Week: 6 Degrees of Freerice

You may have noticed something different about Freerice.com. Here's a hint - look up, towards the top right of this screen, just next to "About" and "English"? See it yet? Now you get the idea: we're launching the first ever, official World Freerice Week from February 6 - 11!

Our inaugural theme - 6 Degrees of Freerice - is based on the 6 Degrees of Separation theory that explains how you and I are connected to every other person on earth through at most six other people. What does that mean? Simply put – you're connected to someone who doesn't have enough to eat today. A pretty shocking realization, right?
Now, imagine this: if you commit to recruiting six of your friends and family to play Freerice, and ask that they recruit another six, and so on... our online movement to fight hunger will exponentially explode! The more people who register and play Freerice – and the more they recruit their network to join – the more hungry people can get the food they need to live!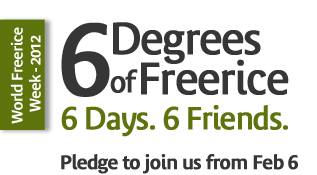 You already know the difference you make by playing Freerice. Now, we need you to help get your friends, family and community involved too.
You probably don't need another incentive than fighting hunger and getting smarter to play Freerice, but in case you did, there are prizes to be won too!
Plus, we're giving you banners for your blog, avatars for Facebook and Twitter to "Freerice-ify" your profile and posters to spread the word in your schools and community! You can find these at freerice.com/freerice6#resources
And, as always, don't forget to Tweet and post on Facebook "6Degrees of Freerice"!
Will you please join my group? It is called Freerice6 Hunger Fighters. Don't forget to remind 6 people
posting on facebook and definetley going to tell my Care2 friends :) Yay
That's great idea, come join my group Freerice6_Ptuj_rice_donators . Let's have fun & let's donate !
Will my group count if it was opened before February 6?
One of my teachers tells us to play this in our free time. I don't know if anyone made an account but they still count for donating rice.
Thank you for your efforts to help the hungry. It's another example of "let peace begin with me."
I'm going to tell my friends.
And a suggestion: I don't think that the registration thing is working, because it makes people think you need to register to play, and some people don't like to give their emails away, or go through the trouble of registering. So if the registration process was simpler, for example removing the email field, I think more people will play.
By the way please join my brand new group, Hindus Fighting World Hunger, it is not only for Hindu people ;)
good thing it is donating rice to the poor
I hope rhe ppl who are members REALLY take part in this. I kno i am!!!!!!!!!!!!!!!!
Hope it generates a lot of interest and many more regular players.
It's not really a week if it takes place for 6 days. But still, a really good idea!
FAQ récentes
Pour récupérer votre mot de passe, rendez-vous...

Si vous utilisez Internet Explorer 6, la mise...

Il y a plusieurs causes possibles à cela:...

Lorsque vous vous déconnectez, votre session...